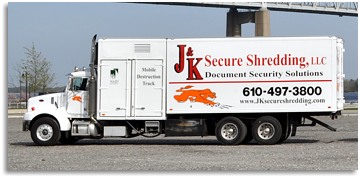 Secure Destruction of Sensitive Information
Our sister company, J&K Secure Shredding, guarentees it's customers that their information will be completely destroyed according to the laws in place and specifications.
J&K is a proud 2008 National Association of Information Destruction Member in good standing. NAID is an information destruction industry leading association keeping its members current with all of the new trends, methods and equipment available. As a member, they are held to higher standards than non-members. They are dedicated to providing their customers with quality and courteous service and confidentiality, proper information destuction and reasonable pricing.
Each time J&K Secure Shredding shreds for a customer, the customer receives a Certificate of Destruction which guarantees them that the material was shredded properly. The certificate also is proof of the company taking the adequate steps to prevent identity theft.
If your company does not currently have a document destruction management plan in place to protect its sensitive information, J&K Shredding can produce one for your company. The plan will keep your company compliant to the laws and regulations in place today. The plan spells out what the propor handling methods and desruction methods are for each employee.
For More information visit www.jk-secureshredding.com
Please call us today at 610.816.6347 or fill out the form on the right for your free estimate.