For Dumpster Rental Prices in Valley Forge PA - Please Call Us At 610.816.6347
Family Owned Waste Removal Services in Valley Forge PA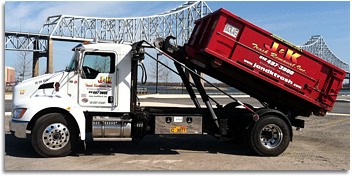 If you have a load of rubbish that needs taking away from your premises as soon as possible, you need the use of a dumpster to get it removed and we are the people to provide one for you. J&K Trash Removal has been operating as part of the community in all the local counties of Northern Delaware for more than eight decades and no-one knows better the 'ins' and 'outs' of trash disposal in this part of the world.
Whether you have a buildup of packaging and other junk at the office or just the accumulated detritus from years of family life at home, you can get a full range of waste removal services of the highest standards and at the most reasonable rates around.

Rapid Dumpster Rental in Valley Forge PA
It doesn't matter whether you are doing a major work at a commercial construction site moving out of your current house, J&K Trash Removal has all you needs to covered. We offer a wide range roll off dumpsters which come in different sizes that include; 10 yards, 20 yards, 30 yards and 40 yards.
J&K Trash Removal always delivers their containers within 24-hours after the time you place your order. The 10-yard dumpster containers are quite efficient and are small to perfectly navigate and fit on some of the narrowest of driveways, while the 40-yard dumpster containers are quite large and they can accommodate and serve even the major construction jobs with a lot of waste materials that need disposing.
There are some self-contained as well as breakaway-compactors, not to mention recycling containers for those specialized jobs. J&K Trash Removal has been serving various communities for many decades now and waste removal is one of our major specialties.
How Big a Dumpster Should I Get?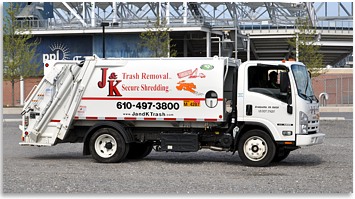 As stated above, there are roll off dumpsters Valley Forge PA which can accommodate loads of all sizes. When you need to get waste or trash removed, and you decide to rent a dumpster, you'll need to put into consideration a few factors.
First, you need to consider the size of the waste, trash or junk that you want removed, and secondly you need to know the actual type of waste or debris or trash that you will be disposing. One of the most commonly used Valley Forge PA roll off dumpster rental sizes is the 20-yard container.
The main reason this 20-yard container is popular is because it is both large enough for it to carry out most residential waste removal tasks, while at the same time it easily fits into most narrow driveways.
When you decide to rent a dumpster in Valley Forge PA, keep in mind that it's best to order a larger dumpster container and get all your waste removal needs met than to order a smaller container which may end up not being able to carry all the waste and trash you need hauled away. After you estimate the general size and type of junk or debris you intend to dispose of, make sure you choose a container that will certainly fit all the waste. If you are in doubt or happen to have any troubling questions concerning the type of container you need, J&K Trash Removal is just a phone call away. We'll be more than glad to assist you with all the questions you may have in choosing the right container.
J&K roll off dumpsters in Valley Forge PA is your one stop solution for all your home trash removal, construction debris and any waste management needs.