For Dumpster Rental Prices in Toughkenamon PA - Please Call Us At 610.816.6347
Toughkenamon PA Waste Removal Services by a Family Owned Business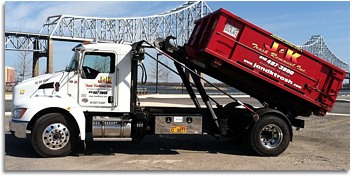 Are you in search of junk removal, trash pickup or nearby dumpster rentals in Toughkenamon PA? If that is the case, then we have what you need. For the last 80 years, folks from Delaware, Chester, Philadelphia and Montgomery counties of Pennsylvania, as well as communities in the larger Northern Delaware, have been benefiting from the premiere services that J & K Trash Removal has been providing.
When it comes to waste management, you can trust us to be your one-stop-shop. We offer top-of-the line waste removal as well as disposal services for both residential and commercial clients. And the best part of it is that we offer the most competitive prices in location.

Get the Right Toughkenamon PA Dumpster Rental, Fast
It doesn't matter whether you are doing a major work at a commercial construction site moving out of your current house, J&K Trash Removal has all you needs to covered. We offer a wide range roll off dumpsters which come in different sizes that include; 10 yards, 20 yards, 30 yards and 40 yards.
J&K Trash Removal always delivers their containers within 24-hours after the time you place your order. The 10-yard dumpster containers are quite efficient and are small to perfectly navigate and fit on some of the narrowest of driveways, while the 40-yard dumpster containers are quite large and they can accommodate and serve even the major construction jobs with a lot of waste materials that need disposing.
There are some self-contained as well as breakaway-compactors, not to mention recycling containers for those specialized jobs. J&K Trash Removal has been serving various communities for many decades now and waste removal is one of our major specialties.
How Large A Roll-Off Dumpster Should I Rent?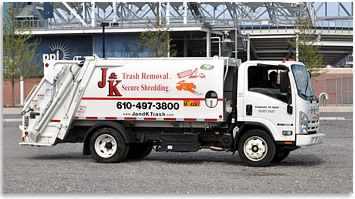 When deciding on which roll-off dumpster to rent in Toughkenamon PA, you need to consider two things; the type of debris involved (some things take up more space for their size than others), and the quantity of rubbish you want to get rid of. If you're not sure which size you need, it's best to get the next size up - having a bit of unused space in your dumpster is better than having more rubbish than you have space!
Roll-off containers are not the only type of dumpster we have available for rental; we have a range of 'breakaway' and self-contained compactors along with recycling containers for both standard and specialized requirements. Work out what you need, let us know and we can almost guarantee we'll have exactly the right container in the right size for your purposes. If you need help deciding, we can do that too, and any and all our containers can be with you within 24 hours of your first call.
We get rid of every type of waste, whether it's garden clearances, household spring-clean, or commercial construction (or destruction) sites, and anything else you don't want any more. At J&K Trash Removal, we specialize in your refuse!