For Dumpster Rental Prices in St Peters PA - Please Call Us At 610.816.6347
St Peters PA Waste Removal Services by a Family Owned Business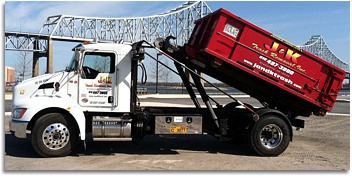 Are you in St Peters PA and needing dumpster rental, junk removal or trash pickup? If you are, then J & K Trash Removal can help you. We've been open for business for more than eighty years, serving Northern Delaware communities as well as Philadelphia, Chester, Montgomery and Delaware Counties in Pennsylvania.
Whatever you need in the field of waste management, we can provide it all with our comprehensive selection of services. We offer both residential and business waste disposal and removal services, always providing you with very high quality and superb value for money.

Fast, Efficient Dumpster Rental in St Peters PA
From a few boxes of trash left over from a house move to the mountain of rubble after an old office building has been brought down, no job is too big or too small - and we have the right size dumpster to match.
We can supply 10 yard roll-off containers that will slip into the smallest back yard up to 40 yard ones that'll clear the biggest construction site with ease, plus the 20 yard and 30 yard sizes in-between.
The 20 yard size tends to be the most popular, since it is usually easily big enough to clear ordinary residential rubbish problems whilst still fitting onto most driveways.
How Big a Dumpster Should I Get?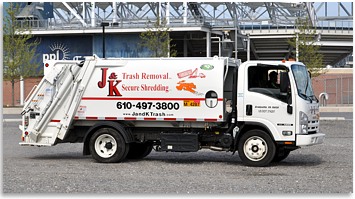 As stated above, there are roll off dumpsters St Peters PA which can accommodate loads of all sizes. When you need to get waste or trash removed, and you decide to rent a dumpster, you'll need to put into consideration a few factors.
First, you need to consider the size of the waste, trash or junk that you want removed, and secondly you need to know the actual type of waste or debris or trash that you will be disposing. One of the most commonly used St Peters PA roll off dumpster rental sizes is the 20-yard container.
The main reason this 20-yard container is popular is because it is both large enough for it to carry out most residential waste removal tasks, while at the same time it easily fits into most narrow driveways.
When you decide to rent a dumpster in St Peters PA, keep in mind that it's best to order a larger dumpster container and get all your waste removal needs met than to order a smaller container which may end up not being able to carry all the waste and trash you need hauled away. After you estimate the general size and type of junk or debris you intend to dispose of, make sure you choose a container that will certainly fit all the waste. If you are in doubt or happen to have any troubling questions concerning the type of container you need, J&K Trash Removal is just a phone call away. We'll be more than glad to assist you with all the questions you may have in choosing the right container.
J&K roll off dumpsters in St Peters PA is your one stop solution for all your home trash removal, construction debris and any waste management needs.